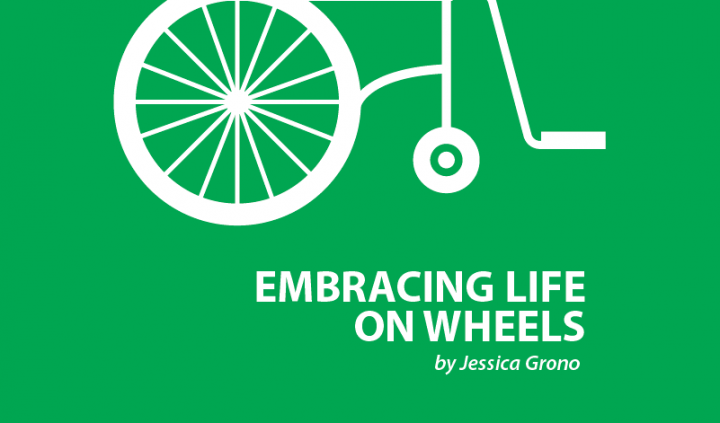 Summer is a terrific time of year, especially when you're a child. There's no school, no homework, and sometimes a family vacation to look forward to. When I was growing up, our family vacationed for a week at Rehoboth Beach in Delaware. My parents rented a trailer, and we were about a half-hour drive to the beach. As I grew up, going to the beach became less fun. I hope one day it will become enjoyable again.
I give both of my parents credit for raising me the same way they raised my brother and my sister. They wanted me to experience everything I could, and that included going to the beach. Beach wheelchairs were unheard of back then. My dad and my mom sometimes had to carry me down to where we would put our belongings for the day. As light as a child is, I'm sure it was not easy carrying me that distance on a hot day. I remember the trek back to our van at the end of the day. We were exhausted, sandy, and warm. And there was the additional challenge of my difficulty staying still when being carried due to my cerebral palsy.
At the beach, I'd sit at the part where the waves came up to kiss the sand. I liked the feeling of wet sand and played with it all day. My sister often came to play with me, and we laughed when the water washed away our sand creations. I didn't really enjoy going into the ocean because I felt unsafe. One time I floated away from my family in my inner tube and I was terrified. Luckily, my brother came to my rescue.
When we would arrive back to the trailer, my mom would place me directly into the bathtub. We laughed because of the amount of sand in my bathing suit. I always seemed to get a terrible sunburn no matter what sunscreen we used. However, back then, sunburn wasn't the health concern it is today.
Unfortunately, an adult with cerebral palsy faces barriers to enjoying the beach. I feel terrible since my children do not go as often as I'd hoped. A beach wheelchair has big solid plastic wheels to access the beach to sit. But I don't find them as readily available to rent as I'd like. Going to the beach often ends up being more frustrating than relaxing.
If I could plan my perfect beach, I'd make sure everyone had access. I'd like to see concrete walkways from several beach access points that go almost to the water's edge. At the end of the walkways, I'd create a slab so someone could sit in their chair and hang out if they don't want to be transferred into a beach wheelchair.
Beach wheelchairs would be easily obtained and in a variety of sizes. Some beach wheelchairs are too big, and I don't feel safe in them. I think it would be amazing to have a motorized one as well. The dressing areas would be accessible and comfortable spaces to allow someone to help with changing if needed. Showers would also be accessible.
I would like a better experience at the beach that goes beyond the boardwalk. I strongly believe that with more of a push, people would see the importance of making beaches wheelchair accessible. Change can happen so that families can have more family time while on vacation.
***
Note: Cerebral Palsy News Today is strictly a news and information website about the disease. It does not provide medical advice, diagnosis, or treatment. This content is not intended to be a substitute for professional medical advice, diagnosis, or treatment. Always seek the advice of your physician or other qualified health provider with any questions you may have regarding a medical condition. Never disregard professional medical advice or delay in seeking it because of something you have read on this website. The opinions expressed in this column are not those of Cerebral Palsy News Today, or its parent company, BioNews Services, and are intended to spark discussion about issues pertaining to cerebral palsy.