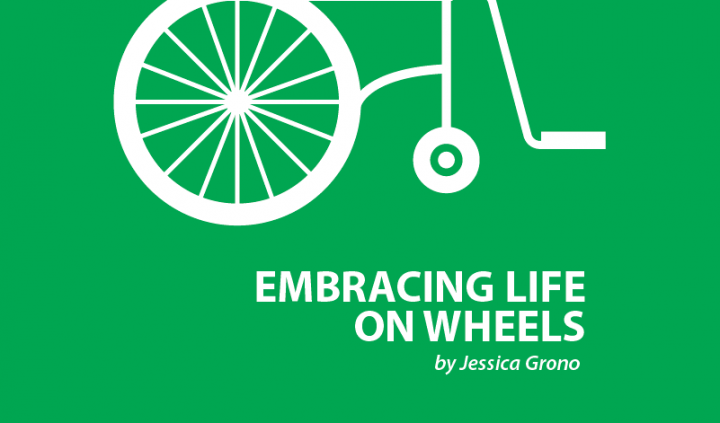 Animals can be wary of me because of my involuntary movements. I grew up with dogs and have been blessed to find one that doesn't care about my cerebral palsy. Lady is a black retriever mix around 12 to 15 years old. We rescued her from an ASPCA shelter in 2009. 
When I first saw Lady, she was sitting with her head down at the back of her kennel. I stopped my wheelchair and looked in at her. She stood up and came over to me, sitting with her head tilted downward and her eyes looking up at me. When we asked to see Lady, she immediately came over to me, put her feet on the footrest of my wheelchair, and gently rested her head on my lap. I knew then that she was the one. Two days later, she came home with us.
Lady has been by my side ever since. She would have made a wonderful service dog because her life revolves around being with me. She is my constant companion — wherever I am, she is too. I feel comforted when I see her waiting for me. She gives me her paw and curls it around my hand. I've been lucky to have her — she lets me know I will never be alone and I know losing her will be difficult.
About three weeks ago, I feared that it had come time to say goodbye. During the night, Lady suffered what I believe was a stroke. She was unable to walk or eat, and she drank very little. She became incontinent. Before I rushed to the vet, I researched her symptoms. I didn't want to put Lady through unnecessary medical tests or feel pushed into choosing euthanasia.
Lady had the classic symptoms of a dog stroke. My research told me that nothing could be done for her. I read that the symptoms would improve after 24 to 72 hours of their onset and that recovery depended on the dog, its age, and health. So we decided to give her time, to take it day by day.
Unfortunately, her incontinence worsened. Since I spend time on the floor when I'm not in my wheelchair, I became discouraged. We showered her with love, but on the third day following her stroke, Lady still hadn't eaten, was drinking very little, and wasn't walking on her own. I believed she was ready to go.
Having cerebral palsy, I find it difficult to control my emotions. But I knew that if I let them out, I'd lose all control, so I struggled to hold in my sadness. I sat next to Lady, stroked her fur, and whispered in her ear that if she was ready to go, I'd be OK. I thanked her for everything and told her I'd see her again. My muscles were stiff as I crawled to the living room to get into my wheelchair.
When I got there, I heard noises coming from my room. Lady walked — albeit in a wobbly manner — out to me on her own. Then she followed me outside to enjoy the fresh air. She was weak but happy. While I had my lunch, she ate something for the first time in three days. I felt optimistic — it was as if Lady was telling me that it wasn't her time yet.
As I write this column, Lady is lying in front of me, and Lucy, my 1-year-old Labrador, is by my side. Lady has been eating and going outside for the bathroom. She follows me still. Each day is a gift now. She has given me time to get used to the fact that someday she won't be here anymore. But she will always live on with me in spirit.
***
Note: Cerebral Palsy News Today is strictly a news and information website about the disorder. It does not provide medical advice, diagnosis, or treatment. This content is not intended to be a substitute for professional medical advice, diagnosis, or treatment. Always seek the advice of your physician or other qualified health provider with any questions you may have regarding a medical condition. Never disregard professional medical advice or delay in seeking it because of something you have read on this website. The opinions expressed in this column are not those of Cerebral Palsy News Today or its parent company, BioNews Services, and are intended to spark discussion about issues pertaining to cerebral palsy.