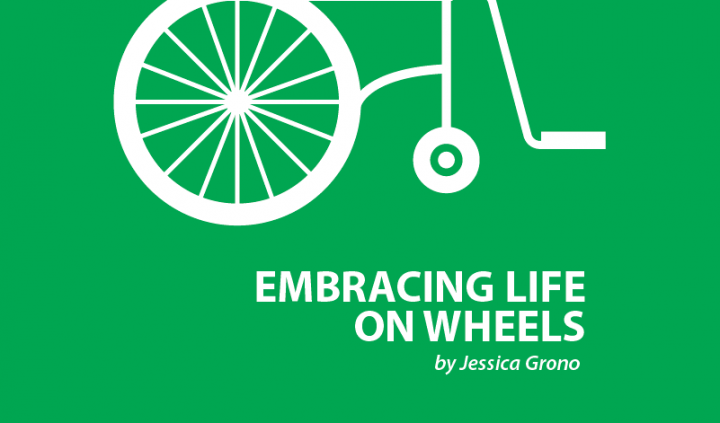 Have you ever acted in a play or performed as a dancer?
Being onstage is often rare for people with cerebral palsy. Luckily, the times are changing, and inclusion is becoming more common. At a younger age, I dreamed of doing something onstage, and later, it became a reality. Then, this past week, I had the opportunity to watch my daughter in a play.
When I was 15, I was part of a dance group with other girls my age who used wheelchairs. I enjoyed dancing, so the chance to perform felt like a dream come true.
Being part of a group or organization is very important to teenagers. I enjoyed seeing my friends during weekly practice. Now a parent, I'm thankful for the many times my dad took me to practice, which was almost an hour's drive.
The choreographer designed a dance routine based on our abilities rather than our disabilities. We had weekly practices and performed in numerous dance shows. Many of the shows were televised, which was nerve-wracking but exciting! One of the most difficult things for me was keeping my muscles calm and still as I performed our routine. I had to drive my wheelchair in the choreographed moves while dealing with nervousness. Trust me, it was far from easy. But the more we practiced, the easier it was for me to prevent my nerves from getting the better of me.
We performed many times throughout high school and into college. Eventually, we ended up going our separate ways and the group came to an end. Sadly, our choreographer was diagnosed with cancer and passed away. But I'll never forget my time with the dance group and all the confidence I gained from being onstage.
My daughter, Laura, is now in sixth grade. The middle school she attends has an excellent music and theater program. The productions are professional and it's hard to believe that the middle schoolers perform so well. I have been taking Laura to middle school and high school musicals since she was 6. We always enjoy watching them together. When she started the sixth grade, she was excited to be involved in the next play.
"Aladdin Jr." was the play chosen for this year. Though she didn't audition for a lead role because it was her first year, Laura did land a spot in the ensemble. She started practicing in early January. Laura took it seriously and often rehearsed at home.
Last Thursday was opening night, and although it probably wasn't the best for my body, I went straight from work to her play. I hadn't eaten or used the bathroom since before work, but it was worth it.
I can't express enough how proud I felt to see her onstage. Even my body was proud with spasms when I saw her. I remembered all the emotions I had felt when I performed. Laura knew her part well, and I couldn't tell she was nervous. I watched two performances and chaperoned on Saturday. I got a kick out of watching everyone get ready and feel the excitement in the air.
We can't wait until next year!
***
Note: Cerebral Palsy News Today is strictly a news and information website about the disorder. It does not provide medical advice, diagnosis, or treatment. This content is not intended to be a substitute for professional medical advice, diagnosis, or treatment. Always seek the advice of your physician or other qualified health provider with any questions you may have regarding a medical condition. Never disregard professional medical advice or delay in seeking it because of something you have read on this website. The opinions expressed in this column are not those of Cerebral Palsy News Today or its parent company, BioNews Services, and are intended to spark discussion about issues pertaining to cerebral palsy.