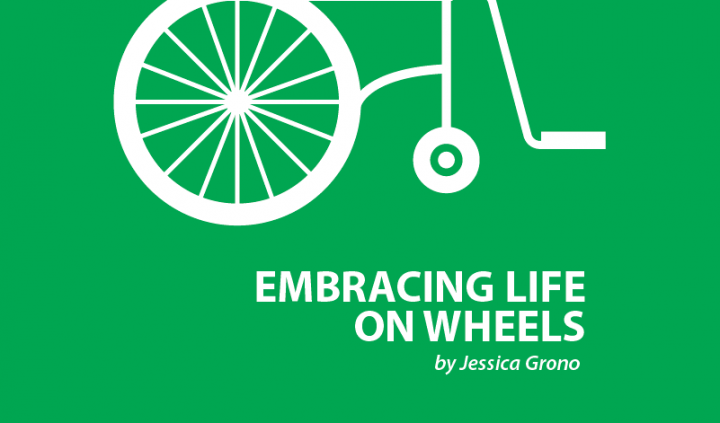 Gratitude is an important part of any happiness journey. Without gratitude, feeling happy about anything can seem almost impossible. Thanksgiving seems like an opportune time to share why we are thankful this year. On my gratitude list are some big things and many small ones, all adding up to a wonderful life for which I'm thankful.
Many people think that those with disabilities live sad and painful lives. I want to tell you that the truth is the opposite. People with all kinds of disabilities have amazing lives. But life doesn't have to be amazing for you to be thankful. A "normal" life gives us many reasons to feel gratitude.
Strangers may believe that I need help with everything apart from driving my motorized wheelchair. However, I'm thankful that I have independence, and I cherish every bit of it. My methods of doing things may not be conventional, but I get them done. Every day I'm learning to be more independent than the previous one.
I'm thankful for my family and children. My family has never treated me differently, and they've taught me that I can be successful with anything that I try. My children bring me great happiness with their unique personalities and senses of humor. I love their kind, generous hearts and helpful souls. They inspire me to be a great mother and teacher, and I cannot imagine not having them in my life. While my cerebral palsy does affect their lives, they treat me as any child would treat their mom.
I'm thankful that I can go to the bathroom alone when I'm at home. This wasn't always possible until a few years ago. I had little success with trying to pull myself up, but then one day it worked. Getting on and off the toilet isn't always easy, but I'm glad that I don't have to wait for someone or ask for assistance every time I need to go.
My life and the lives of others with disabilities have been transformed by technology. Motorized wheelchairs, iPads, smartphones, tablets, and virtual assistant software such as Amazon's Alexa and Google Assistant have given us so much freedom. I would not be where I am without technology, and each year brings advances that further improve our lives.
Finding a job has always been a dream of mine. I'm so thankful that I have this awesome writing job as a columnist with Cerebral Palsy News Today. And now I have two jobs outside of my home as well. I can meet and help more people, educate children, and feel accomplished. I'm grateful that my dream of an outside job came true.
Try to find something to be thankful for no matter how difficult your life is. Gratitude can change your life into one that is amazing and gracious.
***
Note: Cerebral Palsy News Today is strictly a news and information website about the disorder. It does not provide medical advice, diagnosis, or treatment. This content is not intended to be a substitute for professional medical advice, diagnosis, or treatment. Always seek the advice of your physician or other qualified health provider with any questions you may have regarding a medical condition. Never disregard professional medical advice or delay in seeking it because of something you have read on this website. The opinions expressed in this column are not those of Cerebral Palsy News Today or its parent company, BioNews Services, and are intended to spark discussion about issues pertaining to cerebral palsy.