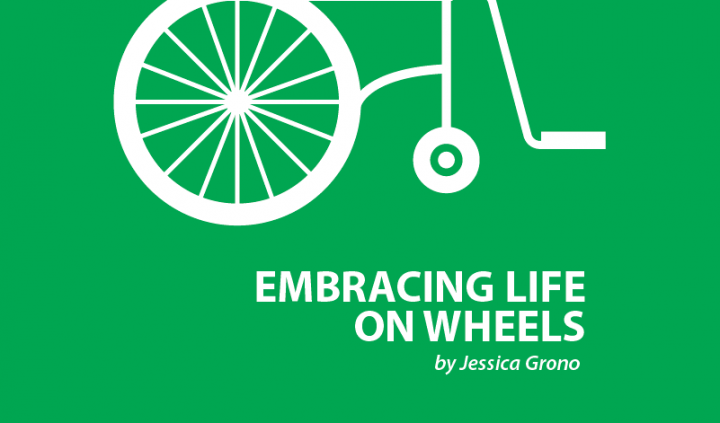 My son, Jason, graduated from pre-kindergarten last week. I noticed all kinds of graduations on social media from my friends and family. Graduation is a bittersweet moment. On the one hand, you feel ecstatic because you've accomplished something monumental. On the other hand, you are closing the door to a familiar chapter in your life. What comes after graduation can scare some or leave anxious feelings. These feelings of the unknown escalate when you have a physical disability.
I remember my preschool graduation. The fine details are sketchy, but I do remember wearing white and trying to keep a graduation hat securely in place. I felt happy and curious about my new school. We were even given a scroll with a diploma. I went to a preschool that dedicated itself to children who had physical disabilities. There were a few children there who had mental challenges too. A lot of our day revolved around various therapies to help us improve physically. 
After preschool, I went to an elementary school with three dedicated classrooms for children with disabilities. Inclusion wasn't even considered at this point. We were just fortunate to be in a public school instead of a segregated school. Times were definitely different then. We couldn't eat lunch with the other students because the school feared we would upset them.  
Throughout my education, I graduated mini-accomplishments like several students who have disabilities, like the first time I was included in a "regular" class without an attendant, and then later when I could attend school in my home district. I graduated with my class, and I received a standing ovation (though I felt it was because of my cerebral palsy).
I don't have many regrets in life, but my regrets do live to haunt me. My major in college was special education. I was determined to be a special education teacher, and no one could stop me from achieving this dream. Although I'm happy that I didn't sway from my decision, I do wish that I had chosen a different major. Why? I'd pick a different major because I found that with the extent of my cerebral palsy, getting a teaching job is impossible. 
If you have a disability such as cerebral palsy, thinking and planning for the future is imperative. Unfortunately, several previously provided services are no longer free of charge. You need to research services and be a self-advocate to obtain the services to meet your specific needs. When choosing a career path, take risks, but be educated about employment and the chances of future employment. Stay as physically active and healthy as you can, and be proactive in maintaining your health.
No one knows your disability or needs as well as you do. Graduation is a great time, but it leads you to the future. Make sure you're making intelligent and self-advocacy choices that will last your lifetime.
***
Note: Cerebral Palsy News Today is strictly a news and information website about the disease. It does not provide medical advice, diagnosis, or treatment. This content is not intended to be a substitute for professional medical advice, diagnosis, or treatment. Always seek the advice of your physician or other qualified health provider with any questions you may have regarding a medical condition. Never disregard professional medical advice or delay in seeking it because of something you have read on this website. The opinions expressed in this column are not those of Cerebral Palsy News Today, or its parent company, BioNews Services, and are intended to spark discussion about issues pertaining to cerebral palsy.
We are sorry that this post was not useful for you!
Let us improve this post!
Tell us how we can improve this post?