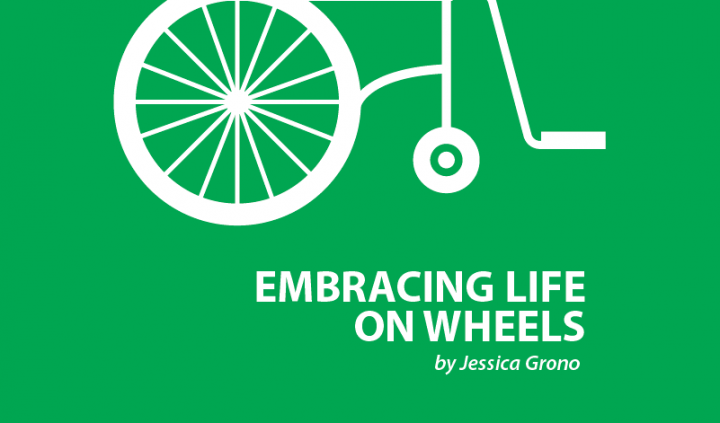 April is a strange month for me. Spring, flowers, and warmer weather are all associated with April — new beginnings. April pushed me to a radically new beginning 11 years ago. My first husband, an abusive man, committed suicide in 2007, unexpectedly leaving me as a single mother with cerebral palsy after years of abuse. I overcame, but those dark years will always be with me.
I met the man who would become my husband after graduating college and moving back home. He was the smartest guy I had met at that point in my life. I fell for our conversations and shared goals, his viewpoints and morals. We laughed and could easily talk a night away without missing a beat. My cerebral palsy didn't have a negative impact on our relationship and seemed like a non-issue.
We were quickly engaged to be married. Some members of my family tried to warn me, but I didn't listen. I felt that if I followed my heart, the rest would fall into place. In hindsight, I do not understand why I chose to ignore obvious signs of future misery.
We weren't married even a week before trouble started. He became aggressive with me when I would request simple tasks or didn't agree with everything he said or did. Having cerebral palsy and relying on him for several things compounded the problem. I couldn't simply walk out of the situation. I felt embarrassed to ask for help, and am embarrassed that I let myself stay.
We went to marriage counseling for a while, which helped immensely. Our greatest mistake was not continuing. But his work schedule made meetings tough to coordinate. It wasn't long before the yelling, blaming, and aggression started again. Living in fear was my new way of life.
Domestic abuse and cerebral palsy are a deadly combination. I think it's a miracle that I survived, not only physically but emotionally, too. Being dependent on someone I loved, who held physical control over me, was like living in hell. It's a place that I never want to be in again. I should have swallowed my pride and sought help so much sooner.
But through my hard times, an amazing miracle came into my life: My pregnancy with my daughter, who gives me joy. After her birth, it wasn't long before I knew I didn't want to raise my daughter in that environment. He was an awesome father to her in the short months that he was around her, but he still behaved awfully toward me.  
At the beginning of April, the verbal abuse got way out of control. One morning, I knew that I had enough and decided to leave him. I went to my friend's house, then my sister's. I knew we had to divorce for my sake, and especially for my daughter's. But sadly, he apparently could not handle me leaving and took his own life.
My new life began as a single mother, but I feel for my daughter who will never know her father. She has so many questions that I try to answer, but I can only describe him in words.  I do my best to be the best mother possible, building myself up again from the pain and scars. I have vivid flashbacks and probably will for the rest of my life, but I'm stronger than ever.
Please, if you're in a violent situation, know you aren't alone. The hardest part is taking the step to get help, with a group trained to give the help necessary. You are stronger than you think, and deserve better.
***
Note: Cerebral Palsy News Today is strictly a news and information website about the disorder. It does not provide medical advice, diagnosis, or treatment. This content is not intended to be a substitute for professional medical advice, diagnosis, or treatment. Always seek the advice of your physician or other qualified health provider with any questions you may have regarding a medical condition. Never disregard professional medical advice or delay in seeking it because of something you have read on this website. The opinions expressed in this column are not those of Cerebral Palsy News Today or its parent company, BioNews Services, and are intended to spark discussion about issues pertaining to cerebral palsy.