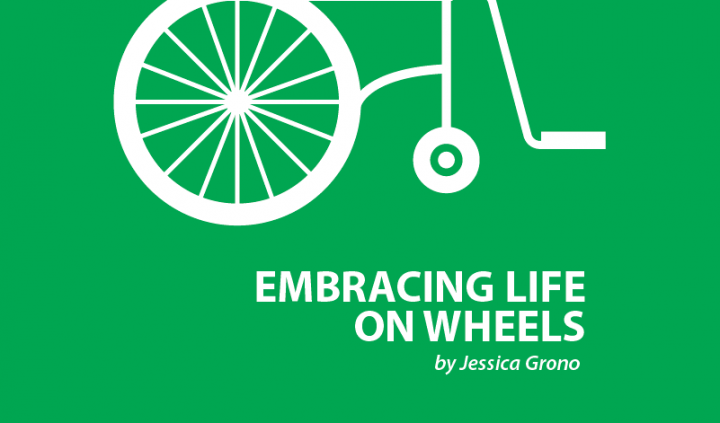 Summer will finally return soon. Many of us had a long, bitter, and cold winter. Each season has a different effect on cerebral palsy. Muscles react to cold and warm weather differently, and sometimes it's difficult to know how to adjust or ease some of the muscle tension and spastic movements. On a day that seems pleasantly warm and humid, my body paints a different story. Humidity is my worst cerebral palsy nightmare. My involuntary movements react, jerking my arms, legs, and hips all over the place. 
The worst is when using a bathroom without air conditioning. Pulling up on the grip bar is a challenge because my hands slip, and trying to sit still is also hard to do. I find that if I don't want to turn on the central air conditioning yet, facing a fan toward me helps break down the spasms.
I learned that air conditioning is my best friend on extremely hot and humid days. Even if it isn't remarkably hot, it's still humid, so I often need the air conditioning. I clearly remember the days when air conditioning wasn't so common. Those days were rough for me even though I was younger and could better handle the heat. My muscles would be out of whack and didn't know how to behave. It wasn't until my teen years that I realized my cerebral palsy worsened in the summer's humidity.
If I cannot be in air conditioning then I need to drink a lot of extra icy, cold water, as it almost instantly cools my body down. Attached to my motorized wheelchair is a water bottle with a long, flexible straw. I can independently use the straw as often as I want when I'm in my wheelchair.
Wear loose clothing. I like to wear summer dresses that are cotton and light. I try to avoid dark colors since most of my wheelchair is black, which absorbs heat. Carrying a spray bottle that someone can spritz you with is a huge benefit. And, of course, eating something cold (and low in calories), like fruit salad, is a huge cooldown.
Swimming is also great for someone who has cerebral palsy. There are several swim apparatuses, including for adults who can't swim without help. Swimming will not only cool you off but also will work out your muscles in ways that other exercises can't — this tires muscles out and lessens spasticity. 
Whatever you feel comfortable doing, try to stay cool this summer. Your muscles will be happier, and so will you.
***
Note: Cerebral Palsy News Today is strictly a news and information website about the disorder. It does not provide medical advice, diagnosis, or treatment. This content is not intended to be a substitute for professional medical advice, diagnosis, or treatment. Always seek the advice of your physician or other qualified health provider with any questions you may have regarding a medical condition. Never disregard professional medical advice or delay in seeking it because of something you have read on this website. The opinions expressed in this column are not those of Cerebral Palsy News Today or its parent company, BioNews Services, and are intended to spark discussion about issues pertaining to cerebral palsy.