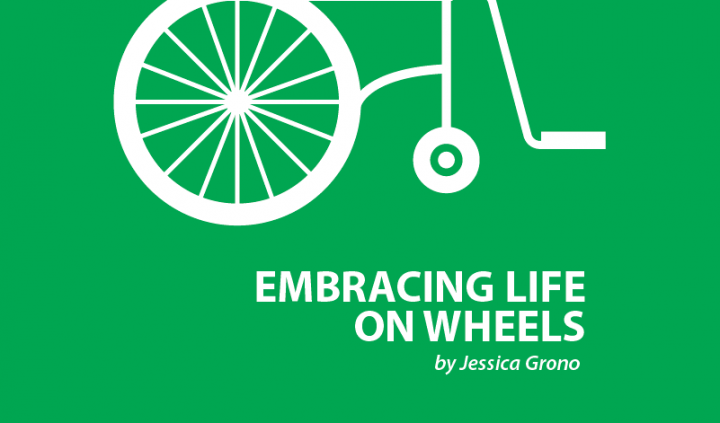 Imagine going to the mall with a wheelchair-accessible van and all handicapped-accessible spaces are taken, but no one has a proper tag to park there. Or you're in a wheelchair and need to use the bathroom, but others are in the handicapped stall when they have no good excuse to be. With a disability, you usually have to wait because the normal parking stalls are too small for a wheelchair-accessible van and restroom stalls are too small for a wheelchair. Then, people often stare at you like you're the crazy person for needing the space.
Situations like these, including people acting strangely when encountering disability, are common. I'm hoping that this column will help society understand why etiquette when sharing spaces with people who have disabilities is not only important but essential.
When is it acceptable to use the handicapped-accessible bathroom stall?
Handicapped stalls are installed in public bathrooms to help people with disabilities to go to the bathroom. Simple as that. The bigger stall is a necessity since a wheelchair cannot fit into an average stall. Also, many of us with cerebral palsy and other disabilities need help by another person to transfer to the toilet. If a wheelchair or assistant can't fit in the stall to help, then using the toilet is impossible. The accessible bathroom stall also has grab bars so someone can transfer onto the toilet without falling. 
When should you use an accessible bathroom? Please don't, unless you have a disability. If you absolutely have no other choice, then you can. But seriously, try to leave the accessible bathroom stalls free even if the room is empty, because you never know who will be entering the bathroom next.
When is it acceptable to park in a handicapped-accessible parking place?
I encounter people parking in accessible parking spaces almost daily. The most common excuse is that they are just running into wherever "only for a few minutes." Handicapped-accessible parking spaces are for vans with ramps, made so that the ramp can lower and the person can enter and exit the van. 
Handicapped-accessible parking space abuse happens often, and what people don't realize is that it not only is an inconvenience but also it creates a safety issue. When forced to park in a non-accessible parking space, I need to sit in the parking lot while the driver pulls out, stopping traffic until I get inside and buckled.
Please do not park in a handicapped-accessible parking space unless you have a disability that requires you to park there. Be mindful of not parking in the blue lines so that a wheelchair ramp can come down. Even if you think you will only be somewhere for a few minutes and mean no harm, you never know who might come and absolutely need to park in that spot.
When is it OK to stare at someone who has a disability?
Don't do it. All my life, I have had people stare at me due to my cerebral palsy. The person you're staring at knows that you're staring at them. It isn't a secret. We also understand that we are different in our mobility and that it might be fascinating to others. Instead of staring, try simply saying hello. Most people with disabilities would prefer if you talked to us instead of staring. You can tell your children to come and talk to us as well. It's much more appreciated if you talk to someone who has a disability rather than stare at them.
***
Note: Cerebral Palsy News Today is strictly a news and information website about the disease. It does not provide medical advice, diagnosis, or treatment. This content is not intended to be a substitute for professional medical advice, diagnosis, or treatment. Always seek the advice of your physician or other qualified health provider with any questions you may have regarding a medical condition. Never disregard professional medical advice or delay in seeking it because of something you have read on this website. The opinions expressed in this column are not those of Cerebral Palsy News Today or its parent company, BioNews Services, and are intended to spark discussion about issues pertaining to cerebral palsy.