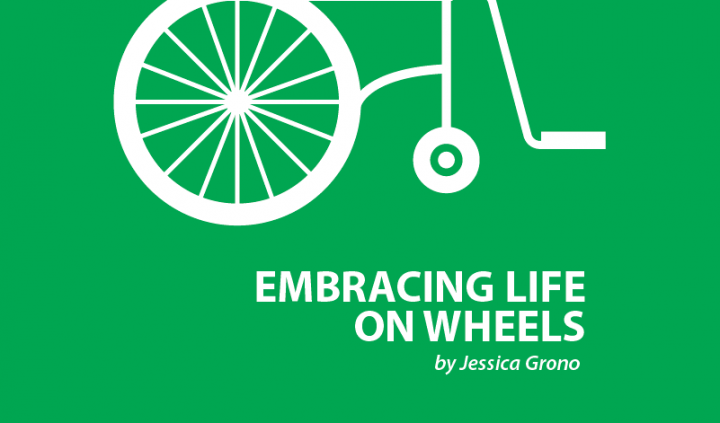 I've loved watching the Olympics as long as I can remember. It doesn't matter if it's the winter or summer games, I watch it no matter what. I enjoy watching because of the competition and unity found in masses of people across the world watching the same thing. This year's games made me think about the comparisons between Olympic competitors and those with cerebral palsy.
People with a disability are at a disadvantage in society. In some people's eyes, we are viewed as lesser simply because we are unable to do something. It really doesn't make much sense. Who cares if we handle things differently or have a certain challenge? We're still who we are on the inside and nothing can change that. 
Although it is 2018, people with disabilities, such as cerebral palsy, are still discriminated against and seen as lesser citizens. As a child, I learned pretty early on that if I wanted to get ahead in life, I needed to be better than the average person. Competition ruled much of my academic life. I feared during my first days in a "regular" classroom that I would be kicked out and put back into special education, even if I had a B average. So, I did my absolute best and received straight As. I carried this same philosophy most of my academic career. I believed my cerebral palsy would be immediately blamed if I failed.
Competition always follows people with disabilities, even when we are well into adulthood. When I became a mother, I learned that people I don't know, or who I least expected, were waiting for me to make a mistake. They aren't waiting because they want to help or offer support. They are waiting to see if a disability is impeding me from being a successful parent.
Other times, a person might be at a job interview, and although they are well-qualified for a position, they are judged solely on what they cannot do.
Many people who have disabilities do not like to ask for help. Some of us will do a task knowing that it probably will take us three times longer before we will ask for assistance. The reason is that we learned early in our lives that asking for help is a sign of weakness. It's a signal of incompetence, and unfortunately, incompetence means we lose independence and freedom.
Many adults who have disabilities struggle between not asking for help and not knowing when the right time to ask for assistance is. We learn that our life's "Olympic Games" go well beyond every four years — it's every day. 
Competition is not always a bad thing. Like in the Olympics, hard work and perseverance will usually pay off with great rewards, whether it is a job, a marriage, children, or just gaining some new independence. But every great athlete knows that there is a time to relax and to ask for help to get oneself right back into the game.
***
Note: Cerebral Palsy News Today is strictly a news and information website about the disease. It does not provide medical advice, diagnosis, or treatment. This content is not intended to be a substitute for professional medical advice, diagnosis, or treatment. Always seek the advice of your physician or other qualified health provider with any questions you may have regarding a medical condition. Never disregard professional medical advice or delay in seeking it because of something you have read on this website. The opinions expressed in this column are not those of Cerebral Palsy News Today or its parent company, BioNews Services, and are intended to spark discussion about issues pertaining to cerebral palsy.