Michelle Laver remembers putting a rattle in her infant daughter's hand and closing her little fingers around it. Then she watched the rattle fall. Kate couldn't hold on to it.
Kate eventually was diagnosed with cerebral palsy, a condition that made eating difficult. But a liquid formula prescribed by her doctors did not help her.
Desperate, her father, with the help of his wife and a dietitian friend, developed a new formula that did wonders for Kate. That's how Kate Farms was born.
"It's incredibly rewarding," Michelle Laver said in an interview with Cystic Fibrosis News Today. "People are really grateful to have an alternative. It's the greatest gift. And they feel so much better."
A "large number" of cystic fibrosis (CF) patients  also are Kate Farms clients, the company says, and it works closely both with dietitians specialized in CF and local CF communities in promoting its products.
Unlike the commercially available formula first given to Kate — made mainly of water, sugar, corn syrup and a highly processed carbohydrate, Laver said — Kate Farms solutions are organic and hypoallergenic, free of dairy, gluten, soy, corn, GMOs, nuts, non-nutritive sweeteners, and anything artificial or that promotes inflammation.
The formulas include soluble insulin fiber and plant-based protein with all the amino acids, plus a blend of fruits, vegetables, micronutrients, herbs and spices. Touted as supplying 24 essential vitamins and minerals and the extracts from 29 "superfoods," the liquids are said to maintain lean muscle and encourage cell growth and repair. They come in a variety of flavors, and are relatively reasonably priced.
"Some of the other products out there meant to be meal replacements may be low in some of those, or may be missing nutrients," said Vanessa Carr, clinical nutrition manager for Kate Farms. "In that way we're superior. We check all the nutritional boxes."
What's also different is that the company's medical line, Core Essentials, may be used as a supplement or as a complete meal, and taken orally or via tube feeding. These products (a standard formula and Peptide Plus) also can be covered by U.S. government or private insurance plans, and the company offers assistance on its website.
Kate Farms' Komplete — not part of the medical line — often is used as a kind of protein drink by, say, athletes and college students, Laver said, adding that up to 40 percent of the company's customers have no major health issues.
Next year, the Santa Barbara, California-based company, which officially launched in 2011, will introduce pediatric and higher-calorie formulas.
Both Laver and her husband Richard drink the product daily. In fact, she had been so impressed by her daughter's transformation that she became vegan. Richard's diet has improved as well.
Still, Kate Farms' emphasis is on the medical community. "It's really why we started the company, to get to the Kates of the world, and those compromised with health issues," said Laver who, with Richard, has three adult children.
"They should have something to help them face what they're facing nutrition-wise."
Those with diseases like cerebral palsy, a movement disorder that can sometimes involve a learning disability, have difficulties meeting nutritional needs. Kate, however, is thriving. Now 11, she has primarily transitioned from Komplete to Core Essentials for its slightly higher caloric content. Although most of her nutrition comes from gastrointestinal feedings, Kate also takes some meals orally. For instance, if the family is having spaghetti for dinner, her parents will put some of that in a blender along with Komplete.
Cerebral palsy patients with feeding tubes usually rely on whatever formula is available, Carr said. "Even with those, many patients can't tolerate a high enough volume, especially if they're non-verbal," she said, adding that most competing liquids are dairy-based and lack fiber and phytonutrients.
In CF — a genetic disorder that damages the lungs and digestive system — as many as 90 percent of patients have trouble digesting and absorbing fat because of pancreatic issues, Carr said. CF patients also expend a lot of energy breathing, which, in turn, burns more calories.
Not just for young people
Jerry Cahill knows all about it. A CF patient and Brooklyn, N.Y., resident, he had a double lung transplant nearly six years ago. He learned about Kate Farms products while at a conference about a year ago. "I wandered over and tried it. It tasted good, and it started from there."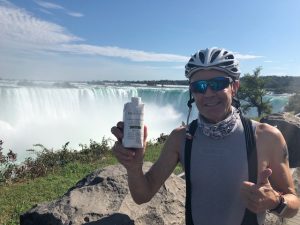 At 61, Cahill has well exceeded the life expectancy of most CF patients. While he is serious about cycling and other exercise, which helps to keep his lungs clear, he attributes a big portion of his vitality to Kate Farms, particularly its Peptide Plus plain product, which he drinks as a supplement for the extra protein.
"Nutrition is a very important part," said Cahill, who drinks one or two containers daily. "There are a lot of products out there, except they aren't good, and don't taste good. They have a lot of empty calories and too many carbs, and they aren't natural.
"When I was growing up, therapies were antiquated. They wanted you to put on calories and gain weight. But the drinks were garbage, filled with sugar," he said. "They would clog up your system. People would get CF-related diabetes," he said.
Cahill also appreciates the convenience of Kate Farms. "We deal with enough issues with time management as it is," he said. "I don't need a blender and make a smoothie. I can just throw the little carton in my bag and it works great. It lets me have a better quality of life."
Kate Farms recently helped to sponsor a California-based fundraiser held by The Living Breath Foundation for those with CF. Called "Bay Crossing for Breath," the effort, which involved paddling from Santa Cruz to Monterey, raised nearly $22,000.
Time well-spent
For the Lavers, it's been a long but rewarding road — seven years to be exact. Even after they'd turned Kate's health around, and she no longer vomited or had acid reflux, bottle rot or constant airway congestion, Richard, with Michelle recording every detail, continued to experiment with new combinations, tweaking the initial formula 70 times.
His goal was to make the shake that would become Komplete even better. The couple then submitted the new formula to a panel of pediatric nutritionists and dietitians, and fine-tuned it even more.
By this time, other people had heard of the product and began requesting it. What began as a labor of love had grown into something bigger.
There were setbacks, including when Kate was prohibited from bringing the shake into the classroom unless it was commercially packaged and sealed. But the couple persevered. When he was younger, Richard Laver had survived a catastrophic plane crash that took the lives of hundreds, he said. He intended to march on.
In 2013, the first bottles of Kate's shake hit the shelves.
"The blessing was we didn't know how big of a nut it was to crack the nutritional shake market," Michelle Laver said. "Had we known, we would've been nervous. But this company always seemed like the right people, the right opportunities."
Kate Farms got a lucky break with a packer, and family members helped out with seed money. Michelle and Richard, who had been in real estate business together, transitioned to co-founder roles, talking with patients and parents, and attending trade shows.
These days, the products are available nationwide in stores and online. In addition to a nutrition manager, Kate Farms has a chief executive, an advisory board and a board of directors.
"We're excited and we feel the medical world is ready for it," Michelle Laver said. "In the end it kind of worked out, and I'm still pinching myself."